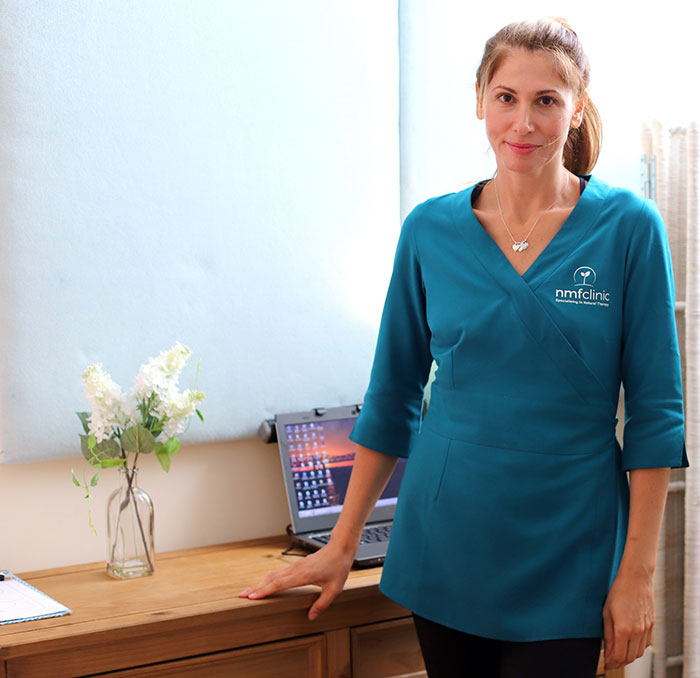 Liat is a leading natural practitioner of reflexology and massage. As a specialist in women's hormonal health, she provides expertise in restoring and maintaining hormonal balance throughout her clients' lives: menstrual cycle, fertility & conception, IVF support, maternity care & post natal and pre-menopause & menopause.
Liat has had significant success in treating woman for natural conception as well as providing complimentary care alongside assisted reproductive treatments IVF,ICSI, and IUI and other associated conditions such as endometriosis, adenomyosis a and PCOS.
The NMF Clinic's fertility patients often continue on with maternity care reflexology to enhance a healthy problem free pregnancy. Liat has supported many women through their pregnancy and labour journeys. Her treatments also work extremely well for helping to balance and support the mind and body through most hormonal conditions, including migraines, headaches, stress, anxiety, irregular periodsand other symptoms. She has successfully treated many woman in all stages of peri-menopause and menopause – providing a genuine alternative to medicated treatment.
Liat is also trained in therapeutic massage and provides a combination of hot & cold stone, deep tissue and Aromatherapy massage tailored to treat sports injuries, muscle pain, and back & neck stiffness pain, arthritis and stress. By investigating the core problem, Liat will create a suitably tailored therapy tailored to resolve your problem as quickly and effectively as possible. Many of NMF Clinic's clients have regular physiotherapy for different problems and they have found that having therapeutic massage helps to promote quicker recovery and relaxes the body from the intensity of physiotherapy treatment.
From the very first appointment, clients can expect a high standard of clinical excellence to ensure a personalised, focused and monitored course of treatment. As a qualified holistic practitioner, Liat's specialist trained with internationally-recognised reflexologists, fertility experts, midwifes and natural practitioners. She is also a qualified counsellor. Her key to her success is continuous research and development.
Liat believes that true holistic therapy is treating on all levels, emotional, physical, and spiritual. This allows natural shifts and changes to occur allowing re-balance.
Training, qualifications & experience
Facial Reflexology, ZFL (2019)
Reflexology Lymph Drainage, RLD (2018)
Person-Centred Counselling Certificate, Open University (2003)
Holistic Therapy National Diploma, (2010) Achieving a triple distinction
Diploma Advanced Reflexology
Diploma Anatomy, Physiology and Pathology
Diploma Body Massage
Diploma Advanced Aromatherapy
Diploma Reproductive Reflexology, (2013)
Diploma Fertility and Maternity, (2013)
Diploma Hot and Cold Stones Therapy, (2011)
Diploma Accredited Massage London, Deep Tissue Massage (2012)
Foot reading Physical and Psychological, (2012)
Liat is a member of the following professional bodies:
The Federation of Holistic Therapist (MFHT)
The Association of Reproductive Reflexologists (ARR)
Association of Reflexologists (MAR)
The Professional Standards Authority